Speaking at SharePoint Conference 2020 in Las Vegas
I am delighted so say, that I got accepted for this year's SharePoint conference 2020 in Las Vegas. The event will take place from 17th to 22nd of May in total. Standard sessions will be presented May 19-21 and full day workshops will take place May 17, 18 and 22. This conference is a must-see if you want to learn anything about Office 365, SharePoint and OneDrive as there will be more than 150 speakers (Microsoft employees as well as industry-leaders and MVPs), more than 200 sessions (ranging from development focus to targeting IT pros and business users) and more than 20 full-day workshops, which allow you to get a deep dive into one specific topic. It's a real honor for me to be part of this great conference, along with many leaders like Jeff Teper, Dan Holme or Vesa Juvonen, who will share their knowledge and their stories and vision about the products they are responsible for. If you want to hear the latest trends and information on the newest products & features, make sure to book your ticket now. My session with the title "Building intelligent bots for your SharePoint Intranet: Best Practices from the trenches" will be a 60-minute session focusing on the topic developing solutions with the SharePoint Framework, bots and more primarily. In more detail, the session description is:
Microsoft offers multiple services to build a chatbot inside your modern workplace, however, if you start building bots without knowing the ins and outs of each platform, you might hit a wall fast. Join this session to learn what works, and what doesn't when building a chatbot for Microsoft 365, especially for SharePoint (Online) and Teams powered by the Microsoft Graph. This session will cover everything from the Microsoft Bot Framework, Cognitive Services and the Conversational AI Platform to add value to your Microsoft 365 environment.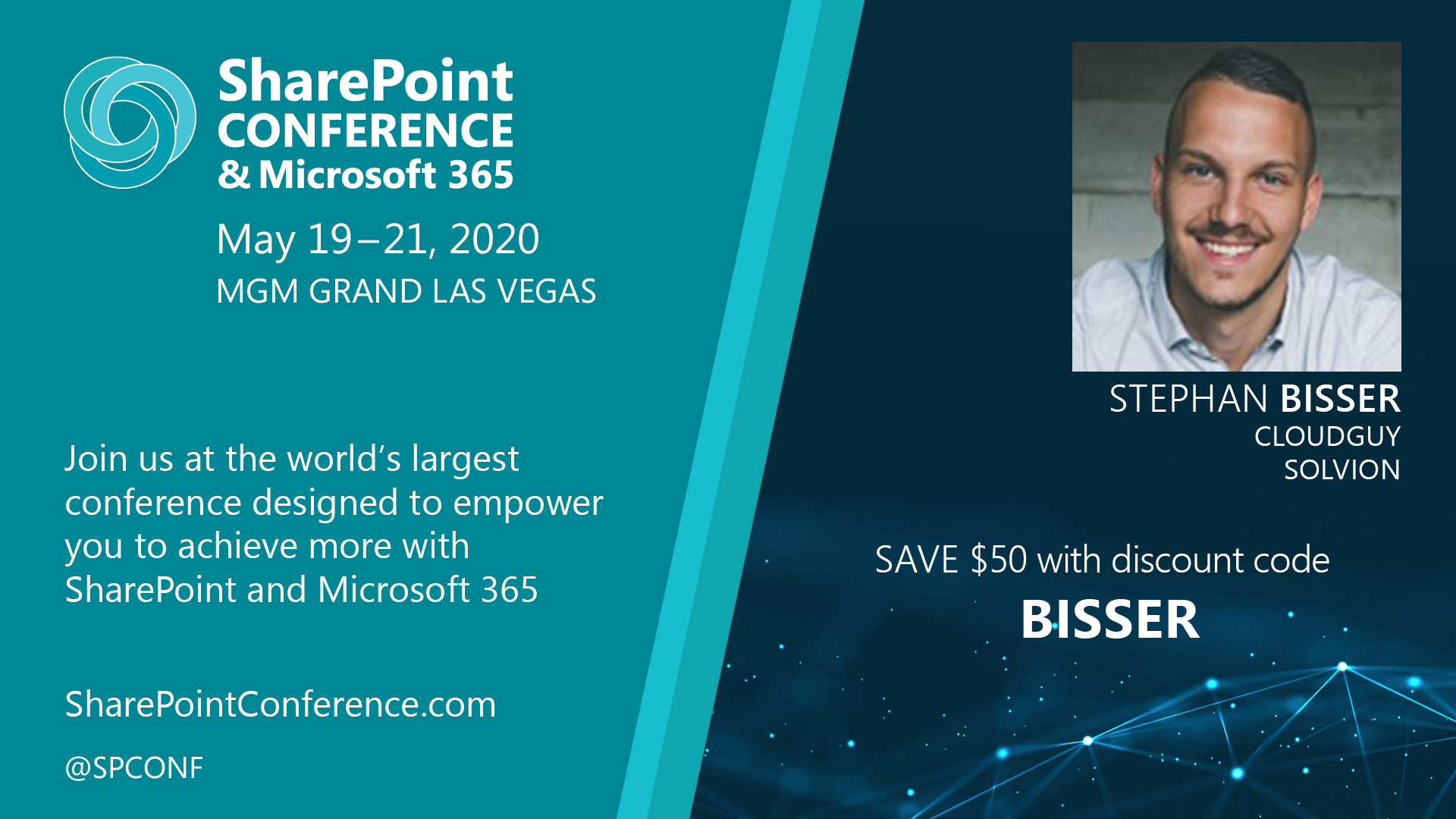 Everyone attending this session will learn something about the real-world use cases and best practices for designing and implementing chatbot projects from the field. As an AI MVP specializing in bots, this session primarily focuses on the Microsoft Conversational AI platform, specially the Microsoft Bot Framework and Microsoft Azure Cognitive Services, to build sophisticated chatbots, which can then be integrated into the SharePoint (Online) based intranet.
If you want to be part of this year's event you can simply register using this link and make sure to use the discount code BISSER to get a 50$ discount on your ticket. When registering you can choose between a lot of cool offers, where you can either get gift cards or surface devices and a XBOX ONE as a gift, so be sure to check out those offers (Seats are limited):
| Show and Package Options | Early Early Bird | Early Bird | After Feb. 24th, 2020 |
| --- | --- | --- | --- |
| Jan. 21st - Feb. 3rd, 2020 | Feb. 4th - Feb. 24th, 2020 | | |
| Full Conference Only | $1,799 | $1,849 | $1,899 |
| SHOW PACKAGE - 1 WORKSHOP  | $2,198 | $2,248 | 2299 |
| Includes full conference registration,  | Receive a choice of Cortana Enabled Amazon Echo or a $100 Hotel Gift Card | Receive a $100 Hotel Gift Card | |
| ONE optional full-day workshop | | | |
| COMPLETE PACKAGE - 2 WORKSHOPS  | $2,647 | $2,697 | $2,747 |
| Includes full conference registration,  | Receive a choice of Cortana Enabled Amazon Echo, a $150 Hotel Gift Card, Surface Headphones or XBOX ONE S | Receive a $150 Hotel Gift Card | |
| TWO optional full-day workshops | | | |
| COMPLETE PACKAGE - 3 WORKSHOPS  | $3,096 | $3,146 | $3,199 |
| Includes full conference registration,  | Receive a choice of Enabled Amazon Echo, a $200 Hotel Gift Card, XBOX ONE S, XBOX ONE X, Surface Headphones or Surface Go | Receive a $200 Hotel Gift Card | |
| THREE optional full-day workshops | | | |
| Pre-conference OR Post-conference | $749 | $799 | $799 |
| Optional full-day Workshop | | | |
In case you want to get the latest news and trends already before the conference, tune in to SharePoint TV. SharePointTV will be broadcast over Twitch Streaming on most Wednesdays from 10-11am. Twitch Streaming is the latest video presentation platform taking the IT world by storm. Twitch was initially built as a platform for gamers to share and interact with their community. It didn't take long for this easy access platform to grow beyond the gamer community. It is now a very popular platform for developers and the IT communities. After successfully introducing Virtual DEVintersection we launched SharePointTV at SPC19. In just 3 days we signed on 300+ followers and received 14K plus unique views. Programing is streamed live and then posted to the SPC YouTube Channel for on demand viewing. SharePointTV will be a one stop shop for training and discussions about all things SharePoint, Teams and Microsoft 365. Hosted by Vlad Catrinescu each week he will invite exciting guests from Microsoft or the community to discuss that's new and what's coming in the world SharePoint and related technologies. The Twitch platform allows attendees to be a part of the conversation with live chat interaction.