MSIgnite updates on AI at a glance
As the Microsoft Ignite is currently going on in Orlando, there are a lot of news and updates on all the various areas. The main focus areas which have been presented in the keynote are:
Modern workplace
Business applications
Applications & infrastructure
Data & AI
As you might already know I'm into all things AI, which is why I want to share the most recent and important updates on the AI ecosystem (Cognitive Services, Bots & ML) by Microsoft during the Ignite with you…
---
25.09.2017
Service Updates
New Capabilities
QnAMaker preview API is now enabling to build, train and publish a simple question and answer bot from product manuals.
Face API, Computer Vision API and Content Moderator are expanding in 7 additional regions - South Central US, West US2, East US, Brazil, North Europe, Australia East and East Asia.
If you want to know more about these updates, take a look at MSIgnite AI Updates 25.09.2017
But that's not enough. Joseph Sirosh (Corporate Vice President for the Cloud AI group at Microsoft) also showed an important slide during his session "The Microsoft AI platform" which should give an overview of the AI platform within Azure: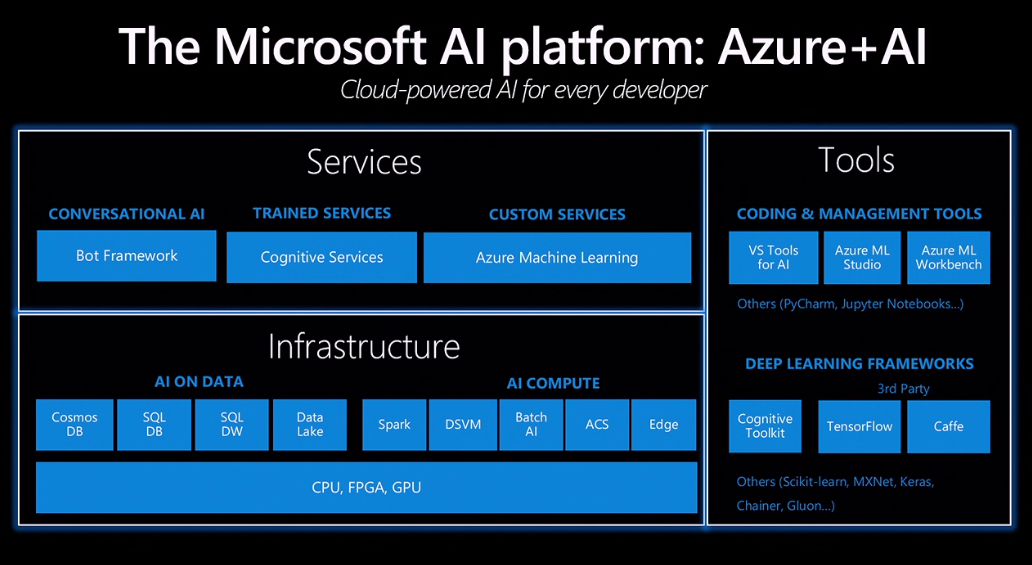 ---
26.09.2017
Service Updates
Azure Machine Learning: Adding support for Azure Batch AI (Roadmap)
Azure Machine Learning: Rolling out to more regions (Roadmap)
Azure Machine Learning: Onward to GA (Roadmap)
There have not been any announcements on service updates regardingCognitiveServices unfortunately. But what the Bot Framework is concerned, Vishwac Sena Kannan showed an interesting slide in his session Let's talk about Conversation Design about the growth and usage of this awesome framework which you can see below: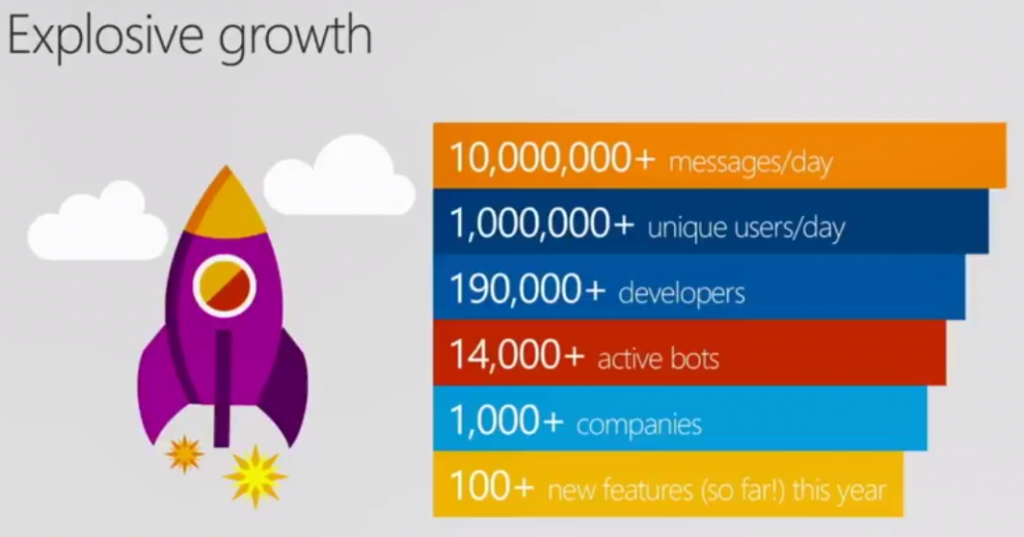 New Capabilities
---
27.09.2017
Unfortunately, I have not spotted any roadmap updates for all of these services, but I would take this opportunity to list some really cool sessions you should watch on demand if you are not at Ignite like me:
The last session about Bot Framework patterns and practices gives a nice overview of the lessons learned which you can see below: